Everything is possible in theory. Praxis tends to put some obstacles allong the way, but the Lost Theory festival is here to blur the lines of possible and impossible.
The barriers of reality, all of the weight that you carry on your hart and sole due to the things that everyday life demands of you, will be untied and hit the ground with the loud smashing sound of relief.
For five days from 12th to 17th Aug
on the
banks of river Otuča in Deringaj near Gračac
, all those lost will find their temporary tribe of like minded dancers. The
campsite itself will open on Aug 10th at 10 am.
In addition to being a music festival and dedicating the days and nights to goa trance, it is also the place where you will be able to enjoy the works of a world renowned installation artist Shrine On, you can learn how to live in harmony with nature on permaculture courses or visit the festival of psychedelic film and art, Tripoteca. You can also do gong yoga or participate on panels and discussions about contemplative psychotherapy, biotransgenetics, intro into Ayurveda, lucid dreaming, all thanks to the Evolver learning lab from New York.
Kids can have the time of their life in the traditional
"Growing Village"
and
Villa Flora
group from Prague will teach you how to go organic, implement the Gandhi philosophy of nonviolence in everyday life...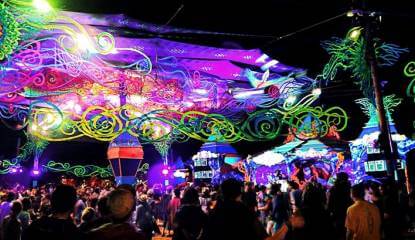 You can buy the weekend tickets alone on the entrance into the festival
from Friday Aug 14th from 6 pm onwards
. For all other information and festival tickets please slide to the
official page of the festival.
Come, dance, love, enjoy, be!
LINEUP
MAIN STAGE
Abyss Ooze / Atriohm vs Encephalopaticys / Already Maged / Anoebis / Ankur / Cosmo / Cosmic
Dimension / Crossing Mind (retro set) / Derango / Etnica (retro set) / Farebi Jalebi / Fractal Gauchos
/ Frantic Noise / Flooting Grooves / Gaspard / Gojja / Hashbury / Highko / Hutti Heitta / Hypogeo /
Imba / Justin Chaos / Kashyyyk / Kindzadza / Kraft / Logic Bomb / Loud / Lugus / Master Margherita /
Megalopsy / Merkaba / Naty Seres / Pandora's Box / Petran / Prana (retro set) / Procs / Quantum
Mechanica / Ryanosaurus / Sensient / Shakta (retro set) / Sonic Species / Stevo / Sunshine /
Terrafractyl / Tetrameth / Texas Faggott / The Infinity Project (retro set)/ Val Vashar / Vibrasphere
by Robert / Whrikk / X-Dream (retro set) by Marcus

SECRET CHAMBER
Hosted by Groove Secret Chamber
Atroop / Avi Lovey / Bayawaka / Billain / Broken Note / Bufo Retro set / D-Wauw / Darkul Trinity /
Electrocado / Evil Oil Man / Fabio Leal / Fako / Florian MSK / Grub / Guy Zappa / Hypnagog / Jekyll /
Kalya Scintilla / Kasadelica / Kromagon / Kryptamine / Lehman / Mad Zach / Mantismash / Mara /
Master Margherita / Master Minded / Messy Mass / Muggy Dane / Mumukshu / Na-Ti / Nangijala /
Okapi / Onionbrain / Otkun / Prisma / R.O / Random Gang Sign / Sensient Techno SET / Tijah /
Tribone / Whitebear
AMBIENT GARDEN
Akasha / Anoebis / Bayawaka / Bwoy De Bhajan / Avi Lovey / Flooting grooves / Guy Zappa / Johnny
Blue / Khalil / Master Margarita / Marco Mental / Meribel / Merkbar / Mumukshu / Pila / Pipal /
Prisma (Megalopsy) / Quanta / Raviv / Skogsdrom / Stellar Ink Pony / Tengri / Val vashar /
Whitebear / Witch Princess
DUB FOREST
Hosted by Digitron Sound System – Balkan Dub Defenders