Well hello there you wanderer! The holidays are upon us and your festive feet have landed in one of the best Advent destinations of Europe!
Well congratulations! After all of the eating and drinking is done, after the cooked wine has warmed your insides to an optimal temperature and made you feel all fuzzy inside
it's time to go and find yourself a party spot.
And this is where the Clubbing Scene slides in, dedicated to directing your dancing boots to the
darkest, hardest, most underground pieces of dance music you can find
(unless you have a friend that is throwing something in his basement of which we are not aware of)!
So we start today, on the
Friday of Dec 18th,
with a visit to
Zagreb Disco festival at Museum & Shock Show Industry, Katran
, for all of you who have a disco fever burning inside.
4 floors and a Santa's bag full of performers
guarantee a night to remember. We move on to one of the oldest and most well respected Zagreb clubs, Aquarius, where you will dance your heart out on
Dojam
(loosely translated as Impression), and it sure will leave one on you under the baton of
Full Ferry, DANCElectricPHILIPE, dBA, Jan Frensin and Shi Pe.

Might you feel the urge, the need, the necessity to
escape
we have the program of the same name lodged between the walls of Sirup where you will be greeted by three musketeers,
Alavux Live, Val Vashar and Gars
. For you river rats, we offer the
Psy Trance on River
where you will be floating on our Sava. Run under the Hendrix Bridge as fast as you can with
Željka Jurak aka Red Queen.

The sound meca of DEPO club is inviting you to another one of their signature nights
Tech D House
with a huge
guest from Sweeden's Aril Brikha
accompanied by
Mataya and Spinn.
With this we move on to
Saturday
, the designed by Gods day to get your freak on somewhere in the dark with the screaming soundsystem. The screaming starts at AKC Medika, Attack at the
Bass Out: Vibronics
evening under the helm of
Vibronics (UK), Dubolik and Lo Peaks.
Savska Street's Cadenza bar will be a cacophony of oldies due to the retrograde nature of giant tracks which survived the test of time on
Retrobeats
event and you are going to be joined by
Mark Bruzz, Branos and Sin.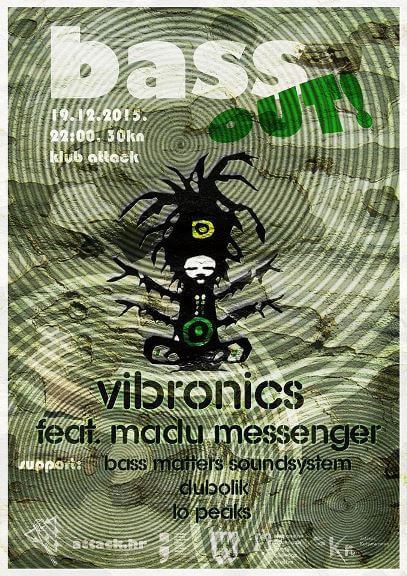 The sticky Sirup Floor becomes a home to to
Burek Records with Route 8 Live
joined by
Tvrtko vs Sladoled b2b and Pytzek
, while DEPO club sends you into orbit around the beat core on the new eddition of
Electron
, where the sound managing of your memories that are yet to come is going to be in the hands of
Fabian Jakopetz, Teo Zver and Matya.
And finaly we get to the last but not least
Technomarathon
at Aquarius where the decks are going to be commanded by one of our oldest and most experienced musical encyclopedias
Pero Fullhouse
, with the support of sprouts such as
Sthekerson, Matya and Damjan.

Come, dance, enjoy life, enjoy
Zagreb
! We are a loud friendly bunch! See you on the dancefloor!