Croatia's iconic odyssey, The Garden Festival, is racing toward its tenth anniversary and final ever event this summer.

Set on the beautiful Adriatic coastline, the sublime adventure has not only been the inspiration for the now thriving electronic music scene in the region, but also for retaining much of its heart and soul as it approaches a decade in the country.
When the team behind The Garden Festival first came to Tisno in search of their new site back in 2012, the club they came across was mind-blowing; a fully open-air venue with Funktion One sound, some areas like a garden, surrounded by pine trees through which the sun ray's would break each morning. They knew straight away this was the new Barbarella's. Since moving down the coast, the club has taken on a life of its own, hosting some truly amazing parties from midnight, under a canopy of stars slowly fading until dawn. Any visit to the festival is incomplete without checking out the club, and for the 10th anniversary the final 8 parties have now been revealed. The Barbarella's Opening Party, The Garden Presents, Beats In Space, Love International, Futureboogie, Edible and finally the very last show sees The Garden Festival handing over to Electric Elephant. And as an extra special treat, Resident Advisor host a tenth anniversary 10-hour set on Saturday 4th July.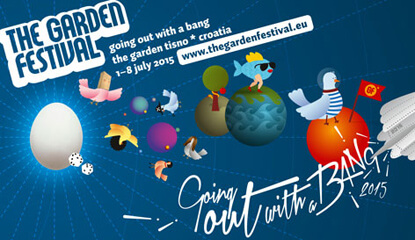 Nick Colgan, one of the festival's founders, says: "This really is it! I have got butterflies looking at the final shows at Barbarella's to be honest. The club here and in Petrcane is always such an integral part of coming over, and you have to go there to experience the festival in full. And especially since moving to Tisno it has really come into its own, for everyone at the festival and many locals too. It is such an amazing space and the programming for July is looking stronger than ever. All of the shows are looking so good, we are really spoilt for choice! I guess the last ever one with DJ Harvey having the honour of wrapping it all up for us will be really emotional, as that is going to be the last ever Garden Festival set!"
Barbarella's at The Garden Festival
Barbarella's Opening Party - Wednesday 1st July
Bonobo (DJ set)
Guests TBC
The Garden Presents – Thursday 2nd July
Ben UFO
Joy Orbison
Midland

Beats In Space – Friday 3rd July
Tim Sweeney
Tornado Wallace
Lauer

Resident Advisor – Saturday 4th July
(special 10-hour party)
Gerd Janson
Job Jobse
Solar

Love International – Sunday 5th July
Seth Troxler
Craig Richards
Adam Shelton
Subb-An
Futureboogie – Monday 6th July
Crazy P
Felix Dickinson
Christophe
Futureboogie DJs
Edible – Tuesday 7th July
Eats Everything
Jackmaster
Waifs & Strays
Lukas
The Garden Festival Meets Electric Elephant One Last Time! – Wednesday 8th July
DJ Harvey – all night long
***

The Garden Festival 2015 – Going Out With A Bang!
Weds 1st – Weds 8th July 2015
@ The Garden Tisno, Petrica Glava 34, 22240, Tisno, Croatia
The complete lineup (listed alphabetically):
Ben UFO, Bonobo (DJ Set), Craig Richards, Crazy P (live), Darshan Jesrani, DJ Harvey, Eats Everything, Gerd Janson, Greg Wilson, Jackmaster, Joy Orbison, Midland, Nightmares On Wax (live), Optimo, Paranoid London (live), Psychemagik, Seth Troxler, Talaboman, Tim Sweeney
***
A Sagittariun (live), Adam Shelton, Anthony Mansfield, Axel Boman, Brawther, Christophe, DJ Nature, Dungeon Meat, Eddy Ramich, Eric Duncan, Fantastic Man, Felix Dickinson, Francis Inferno Orchestra, Frits Wentink, Futureboogie, Galen, Gatto Fritto, Ilija Rudman, Job Jobse, John Talabot, Jonny Nash (live), Justin Vandervolgen, Krankbrother, Lauer, Lee Douglas, Leon Vynehall, Lexx, Lovefingers, Lukas, M3, Mark Barrott, Mark E, Mark Seven, Maxxi Soundsystem, Mudd, Nick The Record, Outboxx (live), PBR Streetgang, Peak and Swift, Pete Herbert, Phil Mison, Phil South, Session Victim (live), Shiny Objects, Solar, Studio Barnhus, Subb-An, Telephones, Tornado Wallace, Waifs & Strays, Young Marco
***
Adam Regan, Andy Baxter, Arkist, Baby G, Bad Passion, Banoffee Pies, Belfast Music Club, Bing Ji Ling, Bobby Beige, Brinsley Kazak, Chuggy, Conor, Dan Beaumont, Dan Wild, Dave Jarvis, Davis, Dax Lee, Dean Sunshine Smith, Disco Knights, Discomendments, Dom Chung, Flux DJs, Future Disco, Hannah Mulvaney, Hesseltime, James Holroyd, Jenny Jen, Jimmy B, Jogarde, Josh Tweek, Jules of Hazard, Junior, Katie Barber, Last Waltz, Mate Kokic, Matt Beck, Mislav, Mr Paul, Neemo & Dreemo, Neil Diablos, No Fakin (live), Paddy Freeform, Paramida, Pardon My French, Patrick Perring, Pete Leung, Phil Cooper, Pytzek, Road To Nowhere DJs, Sean Brosnan, Sebastian Spring, Sebastian Voigt, Shapes, Sisterhood, Ste Hodge, Steve Cobby, Stu Patterson, Studio 89, Terry Farley, The Pool DJs, Tom Rio, Wild Fantasy
Festival tickets on sale now at £120 (boat and club parties are extra)