You are used to associate the words "the morning after" with the eerie feeling of finality and consequences.
So you think of it as the gateway into the aftermath of a crisis, of birth control pills, of dawns after the alien invasion... But mornings after can be beautiful landscapes of
many lives overlapping in the space-time continuum, connected together by music and love.
What is left are
disheveled askew spaces, quiet and calm, yearning for the stomp of the feet to come back, in their enchanting, now quiet, melancholy.
So when the music dies, and the lights come on we read the telltale signs of adventure. The Croatian exhibition has been modeled on and inspired by the same venture undertaken by the ADE. So we decided to pull together works from 20 renowned photographers of summer and winter locations throughout our country and you will have the chance to see the club beasts such as:
DUBROVNIK - Lazareti
SPLIT – Kameleon
PRIMOŠTEN – Aurora
ZRĆE – Aquarius, Papaya, Noa
RIJEKA - Crkva i ex tvornica Torpedo
SISAK – Skwhat
ZAGREB – Boogaloo, Depo, AKC Medika, Lovačka soba, TNT, Podmornica, Super Super, Museum, Taboo, ex tvornica Munja

Photographers: Robert Kale, Goran Perešin Goxmag, Goran Telak, Mario Pavlović, Dorjan Šipuš, Antun Rosović, Josip Ostojić, Nino Knežević and Tonko Mikulandra.
The exhibition came into being through our educational program
JEZGRA
, which aims to
connect the scene and improve communication between the actors and their fans in order to strengthen the thing we all love together
. It comes as an
addition to the celebration of Clubbing Scene's 15th birthday
which will be held in mid-November and is backed by the
Croatian Ministry of Culture and Burn Croatia.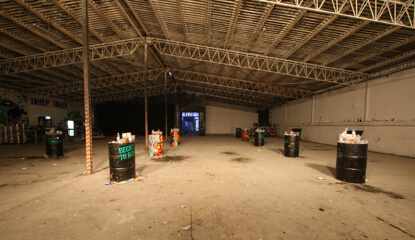 The exhibition will be available in Split from Oct 23rd from 7PM until Oct 31st at club Zona, and Zagreb audiences will have the chance to see their favorite electronic temples after hours on Nov 10th at the conceptual space "Pločnik". So welcome, welcome, welcome to the flipside of the dark side (we have absolutely no idea if this means a 180 turn).