We all have our own perceptions of life but there is one collective intelligence of Adriatic Perception which views the world through love and rhythm.
Just the latter two will be celebrated in the Velika Duba bay in Živogošće on Aug 14th and 15th. You will need more space in your chest for the growing hart, stronger shoe laces and toned thighs to be able to dance the night away.
Two big headliners awaiting your arrival are
Ramon Tapia and Silicone Soul.
Tapia was born to a Duch mother and a father who was a Chilean cultural dissident. It all coincided with the birth of sharp Belgian techno and resulted in one of the most interesting young artists and the owner of
"Say What?"
label. Under the alias of
Silicone Soul
we will welcome
Graeme Reedie,
who took over and continues to work full force even after splitting paths with the colleague Craig Morrison.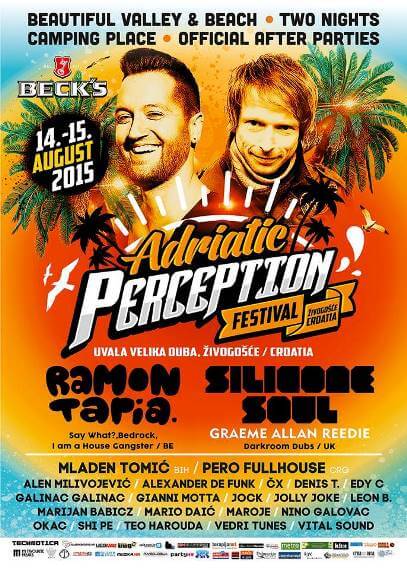 But you will have the joy of listening to the local and regional artists such as Mladen Tomić, Pero FullHouse, Alen Milivojević, Alexander de Funk, ČX, Denis T., Edy C., Galinac Galinac, Gianni Motta, Jock, Jolly Joke, Leon B, Marijan Babicz, Mario Daić, Maroje, Nino Galovac, Okac, Shi Pe, Teo Harouda, Vedri Tunes and Vital Sound.
A lot of beautiful things are awaiting at Živogošće, so feel free to slide
here
for your tickets. Enjoy the long warm summer our friends!