And yet another Zagreb weekend is roaring, tumbling underneath the surface of the mundane.
With your soul tingling and your hart mesmerized by the endless possibilities of dark floors, we invite you to lend us your eyes for another one of the
"Who, what, where and what?" of Zagreb.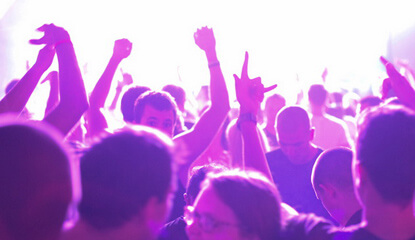 On the eve of
Friday Jan 22nd
we are dancing at the
Funk club
on the rolled up and juicy
Burek
event led by our very own
Pytzek
. The underground halls of
Masters
are sending a call to join them for another one of
Deep'n' Delicious
nights with
Herya & Bronski
behind the decks.
Hostel Caffe Time
urges you to substitute you caffeinated drinks with something with a little more kick and dance your heart out on the
Gabberdom
led by the masterful talent of
Giovani Grozota, Dark Vortex, Destruction, Evil N-Gin.

DEPO club
is shaking with nostalgia and reminiscence on the
House of Lost Memories with Mladen Tomić
, who will be joined by
Iggy and Matko
and
Cadenza
is fusing love, life and music at the
Housefusion
evening with our burn Resiceny laureate
Tom Bug
. At the meantime Zagreb's
Sirup
is stretching your limits as far as the eye can see at the
Unedogled
. Somewhere over the horizon
Mmmeniga, Sergej Snooze and Mate Čeko
are waiting.

And as you take a bow and leave Friday in the party and stress exodus history pages you are quickly sucked into the vortex of Saturday.
Cadenza awaits with the sole mission to break you into pieces and then put you back together better then they found you with the
4MAT
evening led by the man that wrote the rules of Croatian electronic music,
Toxic
.

DEPO
and
CET
lead you through the
History of Techno
from 11pm till the dawn, and Sirup glues you to the floor with
Dirty Beatz pres. June Miller
, supported by
Kula, Brat Leeks, Tekitoka and Matz
. The cult that is Aquarius club is being taken over by
Felver
and his
Honky Tonk
loudness, during which time the
Ex Papaya at Šalata
will blur the lines between the human flesh and the machine with
Machine Funk Party
with
Xed, Noodle Soup, Axus, Acid Fromm, Dr. N-Gin and Dark Vortex.

Masters
is letting you in its deep belly for
Sindikat W/FM
in the hands of
FM, Denis Beifuss and Mate Čeko
, while
Funk
is dancing to
Sofistifunk
hosted by
Bocca and hot sax sounds by Ivan Škvorc
.
Željezničar,
on the other hand, will make you all junkies with its
Soundsystem Overdose
with
Dub and Psy Trance floors
while
Aquarius
wants you to tighten your shoelaces because we are running a
Techno Marathon with Christian Cambas (GR), Sthekerson, Shi Pe and Pillsman.
Choose your poison! Come, dance, live and enjoy on the streets of Zagreb!