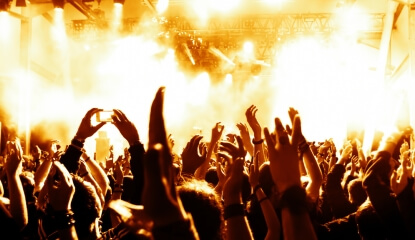 Friday, 08 January 2016
So yet another weekend is creeping around the corner, peeking and winking at you. You can feel it!
You know this emotion so well. It starts with fidgeting in your chair, like a dislocated restlessness, then it finds that space of longing located somewhere in your chest, travels up to the back of your neck and then it hits you full force in all its glory.
The need to dance is just too strong. Don't fight it, you will lose. Resistance is futile.
Having said that,
this is where the Clubbing Scene jumps in
. If you happen to find your wondering feet in the capital of
Croatia
, well, well, well has
Zagreb
got some news for you… The force is strong in this one. So
let us take you on a journey through Zagreb's underground electronic basements. Here we go. Buckle up!
Tonight, on the wonderful snow encumbered evening of
Jan 8th,
we invite you to
Funk Club
where you will be greeted by Pips at around 10pm. Keep it funky! And on the sweet syrupy floor of Zagreb's own
Sirup
we are dancing to the label night of none other than
Imogen Rec.
 where the masters of the parade are
Ilija Rudman and Antonio Zuza.

What are we doing in Cadenza at Savska?
We are moving. Your skeleton needs to stretch and bones pop on the
Movement
event with
Senno and Matya
. Only constant in this universe is that everything moves, so why should you be an exception? 
DEPO club
on the other hands sends out a call to one of its traditional Friday get-togethers of
Tech D House
with
Mataya and Spinn.

And this brings us to Saturday Jan 9th, the designated and blessed by goods day to get your freak on.
Sirup
doesn't have lions, and tigers, and bears (oh my!) but
Bears & Honey
who are proud to celebrate their third anniversary. You will be greeted by a Swedish guest
Tiger Stripes
( so we do have some tigers), and our very own
Blacksoul, Tom Bug, Mark De Line and 2Tall.

DEPO club
is you designated supplier of
Angel Dust
one hour before midnight with
Mary, Cet, Mr. DJ Dario and Teo Zver
behind the decks while one of the clubs with the longest tradition in our city and one with the name that is as fun to pronounce as the club itself is to visit is
Boogaloo
opens its doors to invite you to a night of
Future Scope Clubbing
with
Petar Dundov, Pillsmann and Shi Pe.

Our favorite underground basement of
Masters
is putting on a grand show under the same name and your hosts starting an hour before midnight are
Borut Cvajner and Mimi.
And last but not least is our Savska sanctuary once again. Cadenza is vibrating under the weight of
Transmission
. Emitted, transmitted and received, you will be forever changed by the vibes.

Welcome, enjoy, live and dance. The night is yours!