GotSome are a house and bass production duo from Bristol UK who have been on an upward trajectory since their arrival on the international circuit in 2014.

In an amazingly short space of time, they have clocked up a series of achievements and career highlights that place them one step ahead of most of their peers and have assured their position as leaders of a new generation of talented British producers. They will play at Hideout 2016 on Zrce Beach, Pag Island, Croatia.

1. First a big thank you for doing this interview for our, mostly Croatian, audience and for finding the time to getting some insights of your career and work. To begin could you tell us how and why it all started with GotSome and what was the track that got wider attention?

ALEX: We'd been writing music together for over 10 years, working on various projects and decided we wanted to do something aimed a bit more at the dance floor. That was how GotSome started.

ADAM: It was our track Bassline that really kicked it all off though. It got played late at night on Radio 1 (UK), and the guys from Defected Records heard it whilst driving home on the motorway. They got in touch shortly after and signed the track along with a few others. Fast forward two years and it's still getting played all around the world! That's pretty crazy.




2. Describe GotSome sound and mission in a few sentences.

ADAM: Bass-driven-House with jackin' hi-hats and soulful samples.

ALEX: The idea has always been to combine elements of the jungle, hip hop and breaks we listened to growing up, with house beats. To create something that's heavy, but with a bounce that makes you want to dance.


3. Any future collaborations coming up and what is in the pipeline?

ALEX: We've done a track with Will Clarke plus a few others that we can't talk about yet!

ADAM: We're just putting the finishing touches on our next batch of tunes ready for the summer, which we'll definitely be dropping at Hideout.


4. Latest book and movie you have read and seen?

ADAM: The most recent film I've seen was Spotlight. It was pretty dark, but really good. I spent most of January going to the cinema to check out all the Oscar films. That's the best thing to do in the UK when it's cold in winter!

ALEX: I got a really interesting book for Christmas about the industry behind pop music songwriting called The Song Machine... And followed that up with a Jeffery Deaver thriller about a serial killer that kills using electricity.


5. Top five DJs and producers that you admire?

ADAM: I'd have to go for Claude VonStroke as he's developed such a distinct sound over the years, and put together an amazing label in Dirty Bird. Also Chris Lorenzo as he's a such a good producer.

ALEX: We'd have to say Redlight who's on fire at the moment and his tunes end up in every set and mix that we do. I'm also a big fan of Jon Hopkins and Fourtet and their more deep and epic productions.


6. With whom would you like to colaborate?

ALEX: We'd be happy with any of the above!

ADAM: We'd love to work with some amazing singers. Like how Disclosure have worked with some of the best UK talent on their latest album. We've also got a night we put on in Bristol called Who Cares? that has a massive residents list including Mu Nu Leng, Jus Now, NYTA, Dismantle, Joker, Kahn, and Break. It would be really interesting to do a big collab and combine all the styles together.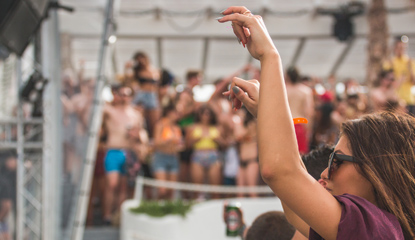 7. We know that you spinned at Hideout, so could you tell us the story behind it, and what are your first impressions when you hear - Croatia?

ADAM: I've played the last couple of years and it was pretty peak. The lighting and the vibe were particularly on point last year when we went on at night time on Papaya just before Shadow Child. That was probably one of our best shows of last year.

ALEX: The thing I can't get over whenever I go to Croatia is how crystal clear the sea is. I don't think I've been anywhere where it's so clean. It makes a nice change to the murky waters of the UK seaside!

Thank you!

Marjan Marmat Matkovic