Young duo from Rotterdam brings fast (distorted) acid and industrial/hard techno. Known in The Netherlands very well, they are filling clubs and festivals in their home country and giving to electronic music something new with a lot of energy.

Dark tone, loads of bass with some acid tunes that shows techno will never stop to grow. Their last EP; Stronger After Fight, received a big hug from the crowd that likes to hear a good old techno but then with the Noneoftheabove's aggressive punch.




When did you start making music and how it all started?

Yoeri: It was 10 years ago. We started with different kind of style because we were probably too young for techno. In the beginning we were making deep house, then we met each other 4 or 5 years ago and we start to make music together.


So, you started separately?

Nigel: Yes, after we met, we were like: "Yeah, let's try something together!" and for one party we created Noneoftheabove.

Yoeri: It was kind of collaboration first, so we made one track and we thought to start the name together. Then things kept rolling like that.


Did you start together with the techno or something else?

Yoeri: Together with the techno, yeah.


How would you describe your music now?

Yoeri: Hm… Noise! (haha)

Nigel: Nowadays it's really influenced by the older techno, like Richie Hawtin at the time and Speedy J. We are inspired with this kind of style and we want to give to it a new jacket. Because back in the days some of the tracks were really flat, so we want to bring more power to this kind of techno music.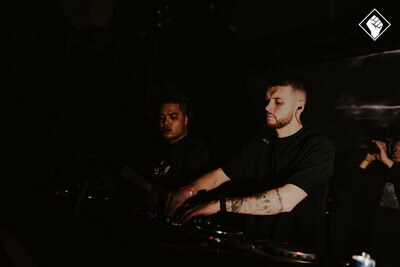 Do you think that harder, industrial techno is becoming more commercial also?

Yoeri: Yeah, but I also see that the hard techno is dying. Even Fatima Hajji doesn't play hard techno anymore.


Is there any message that you want to bring out with your music?

Yoeri: Not really a message but just music without boundaries. Mostly, we were going to the parties when we were younger to see what DJ's are playing… always the same stuff. We wanted to do something with our music that is different from the others.

Nigel: Yeah, you cannot dance on most people's techno. It's just basically 4 by 4 kick. No percussions for drums or for groove or anything. We understand that people want to go to the club to dance and not just standing and fist pumping for 6 hours. So, it's not really a message.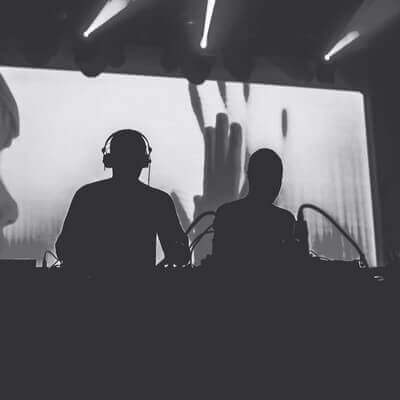 How do you prepare your sets?

Nigel: To be honest, we don't prepare sets anymore; we just put everything on the USB. For the start of the set we just say to the other: "Can you start?" and we just stick from there basically, track by track. We never know what we gonna do.


What are your big plans for 2019?

Yoeri: Collaboration with D. Carbone, the guy from Naples. We've been in the studio few weeks ago to make some music and records that we can bring out. About the gigs… we are playing in Utrecht at By the Creek festival where we are closing together as Executioners.


How do you prepare for the gig? Do you have a "ritual thing" that you do always before the set? What is your key thing for a successful set?

Yoeri: Vodka! (haha) Weed!

Nigel: Smoke a joint, yeah. (haha) Nine out of the ten times at the party we don't see each other for the first two hours. We are coming together and then we split up.

Yoeri: Yeah and then he is stressing: "Where are your headphones, where?!" (haha)

Nigel: Yeah, because this guy always loses his headphones (haha). But we don't really have a ritual in this way and it's always chill. I enjoy playing, he enjoys playing, so no need to be stressed.


Are there any bucket list festivals or shows that you dream of playing?

Yoeri: A lot of them. Awakenings.

Nigel: I saw some cool festivals in Colombia and Sziget. It's hard to say like this because there are so many awesome places and festivals where we haven't been.




And would you consider playing in Croatia?

Nigel: Of course! Well sometimes you just have to wait; it's not always in our power. But yeah, we are looking to get more in the Europe. It just takes some time to get the name over there and get some people to listen to you. Yeah, we could smash Croatia (haha) and bring some hard techno there!


As a duo, how you two get along? How do you work with differences if there are any and do you ever come up to the hard times?

Nigel: Well, there are always differences with producing… we are two different persons. We communicate a lot and we just accept how it is. It's easy. For Noneoftheabove, when we started 5 years ago, our releases vary from techno to experimental. This is our way of working and it works fine because we have different tracks and you can just look what it fits.

Yoeri: Yes, but we let each other do the thing and if he doesn't like things from me and I don't like things from him… we find a way. It's a two-way street in the end. We mostly make our tracks separately, occasionally together and sometimes we just send it to each other.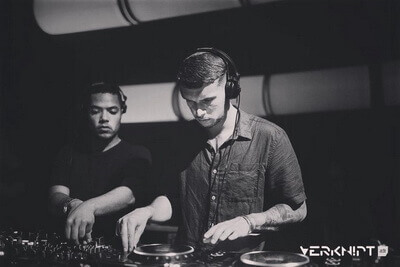 Can you say something about each other that would perfectly describe another one as a person?

Yoeri: Crazy motherfucker! (haha)

Nigel: Hm… I would say annoying but… (haha) No, we are the same in some way. In some way he is crazy but kind of a pussy (haha). Crazy pussy motherfucker (haha).


In your memory, what was the best show that you played at?

Nigel: Oh shit… That's hard. I think the last all-nighter in Basis in Utrecht. Seven hours felt like one and a half hour. We were listening the set afterwards and thought like: "Yeah, we can stand behind this."


How do you manage this? Seven hours set…

Nigel: Weed (haha). We are switching, it's two of us, so we play for 20 or 40min, then the other starts or we go together and so on. We have loads of music so… If the crowd is really dead, not moving at all, then a DJ won't have a lot of fun. Like on some festivals, our music just doesn't belong there and you can see it and hear it. Another DJ's are much slower than us, more static. It happens but as long as you are happy with your set, it's good.

Yoeri: Yeah, when people like it, you want to play more and then the time goes really fast.


If you can choose, who are you excited to share a stage with but you didn't have a chance yet?

Nigel: I think now most of the people we look after switched their style drastically or quit with techno. Speedy J is like a Rotterdam legend so… It's hard to say with whom to share the stage with… from the ones who are active now and what they are playing right now. We always like to share the stage with Rebekah, that's for sure.


What is the inspiration for your music?

Yoeri: Sounds in movies. Always when you watch a good movie with a good ambient, experimental sound in it, you hear stuff that you can use or combine in your music.




You released your last EP last year "Stronger after fight". Can you tell us a bit about it?

Yoeri: Yeah, we also made these tracks separately. I think Nigel made two tracks. I would point out a track Special Place from it.

Nigel: I prefer a track Tell You Would Not, I don't know... I prefer this distorted kind of music and Special Place is a cool track but a bit more commercial.


Okay, what would you like to say for the end?

Yoeri: Go hard or go home!

Nigel: And don't do drugs! (haha)